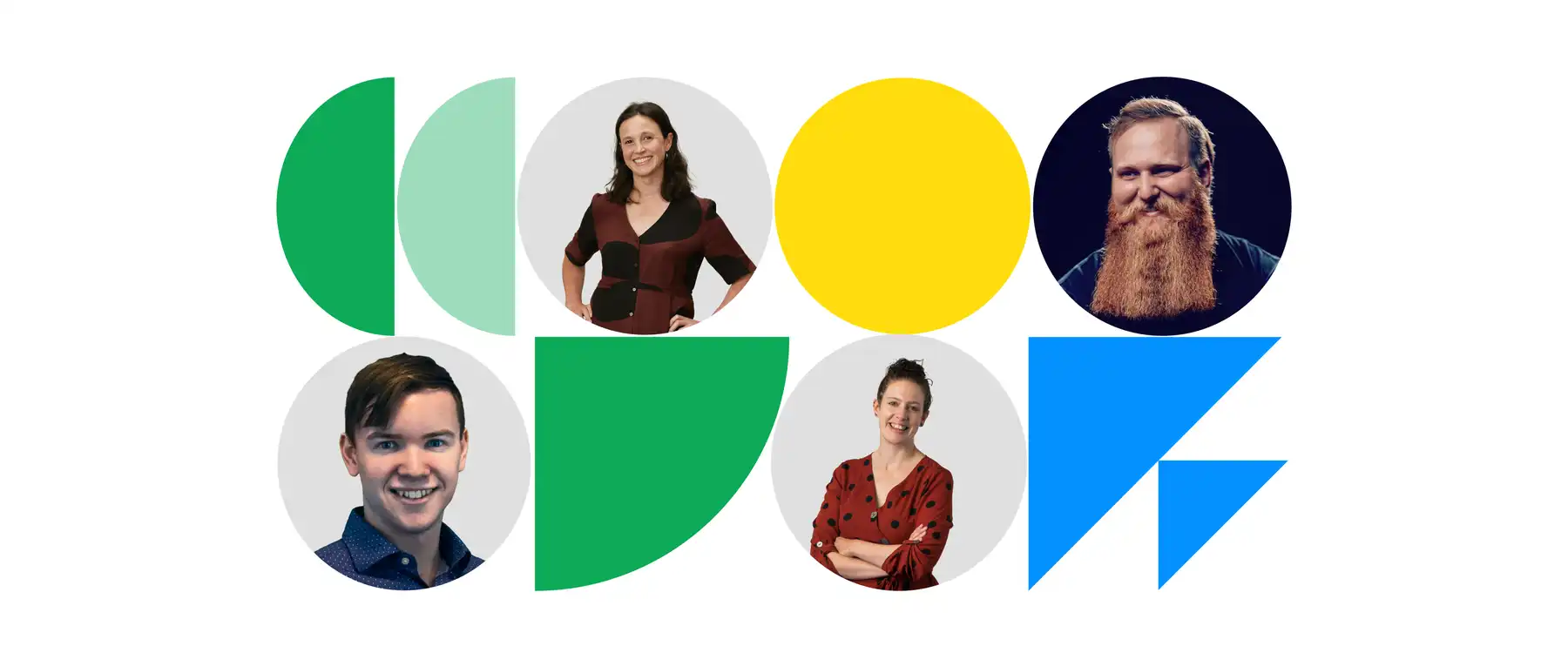 Information architecture, or IA, helps people find, understand and use information. You often won't think about them if they're done well — but you'll notice when they're not.
Below we shed light on the often invisible but essential practice of information architecture, and what people can expect from our information basics workshop happening in August 2022, in partnership with Optimal Workshop. 
Our workshop facilitators Ruth Hendry, Virginia Gow, and Optimal Workshop's Chris Webber and Aidan Pearce share why they love IA, how they've used IA to solve businesses' problems, and their advice to anyone looking to start their IA journey.
What excites you about information architecture?
Ruth Hendry, Head of Strategic Growth at Springload: Information architectures are really fun to solve because they're giant logic problems. The internet and other digital products are essentially giant publishing machines — IA impacts how people find, understand and use this information. IAs are exciting because they affect everyone. As we move towards publishing more structured or personalised content, IAs continue to shape how people consume content, including content on voice devices like Alexa and Siri.
Virginia Gow, Content Strategy Lead at Springload: I read a quote once by Peter Morville that described information architects as "architects of understanding", which is pretty cool. That's what excites me the most — helping people to understand and find their way around what could otherwise be confusing or alienating information domains.
Chris Webber, Customer Success Manager at Optimal Workshop: Information architecture influences so much of what we interact with. In our day-to-day lives you might not always find things where you'd expect to, but you're probably unaware it's IA at the centre of this problem. Before working at Optimal Workshop, I didn't have the language to articulate what an IA problem was or how to identify it — now I see them everywhere!
Aidan Pearce, Product Coach at Optimal Workshop: Small, well thought out IA considerations can have massive positive effects on the experience of end-users. Also, IA enables us to be deliberate in creating experiences that make sense. Not just to some people, but to everyone. Working within IA constantly grounds you in the perspectives of others, not just in serving other people but truly understanding people to then serve them better.
What advice would you give to a business starting their information architecture journey?
Ruth Hendry, Head of Strategic Growth at Springload: Do your information architecture as part of your discovery work, ahead of starting design and development. Your IA, particularly on a large site, sets the scope and size of your project. It also means you can plan out any content changes efficiently and make sure you've involved the right people. You can get an indication of how search might work, what components you need, and the purpose of each page — all important things which inform visual design.
Virginia Gow, Content Strategy Lead at Springload: Remember, you are not your users! It can sometimes be quite challenging to realise the most effective way to organise or label or present information on your website is not how you and the people who work in your organisation might do it.

Chris Webber, Customer Success Manager at Optimal Workshop: The key word here is "journey". You might think of an IA review as a task to complete and leave, but it's an iterative and ongoing effort of evaluation, benchmarking changes, and measuring your success.

Aidan Pearce, Product Coach at Optimal Workshop: Start with understanding your user's perception, rather than making decisions based on your own perspective or assumptions. Improving your information architecture can feel overwhelming at first because it goes against 'trusting your gut', but there are tools and methods in place to help make informed decisions. Card sorts, tree tests and first-click tests based on your existing labelling and categorization are a great way to see what's working and what needs your attention!

Can you give us an example of how you've used IA to solve people's problems?
Ruth Hendry, Head of Strategic Growth at Springload: We worked with Ministry for Primary Industries (MPI), an agency that serves everyone in NZ. MPI's diverse users' needs could be "I want to bring my dog in from the UK, how can I do that?", "How can I get rid of a pest that's on my farm?", or "I want to export honey to China". 
These different audiences had very different ways of organising information, so we split the IA into two overarching organisational schemas — personal and business needs. Our IA also informed MPI's on-page content and search structure to enable people to search content by product and activity. 
We created an IA that supported people to better find information on MPI's site which resulted in a 37% decrease in time spent on the homepage and landing pages, showing customers are finding where they need to go, faster. Plus a 53% reduction in calls to MPI from people saying they couldn't find what they needed on the website, meaning call centre staff can focus on more useful and in-depth support for their customers.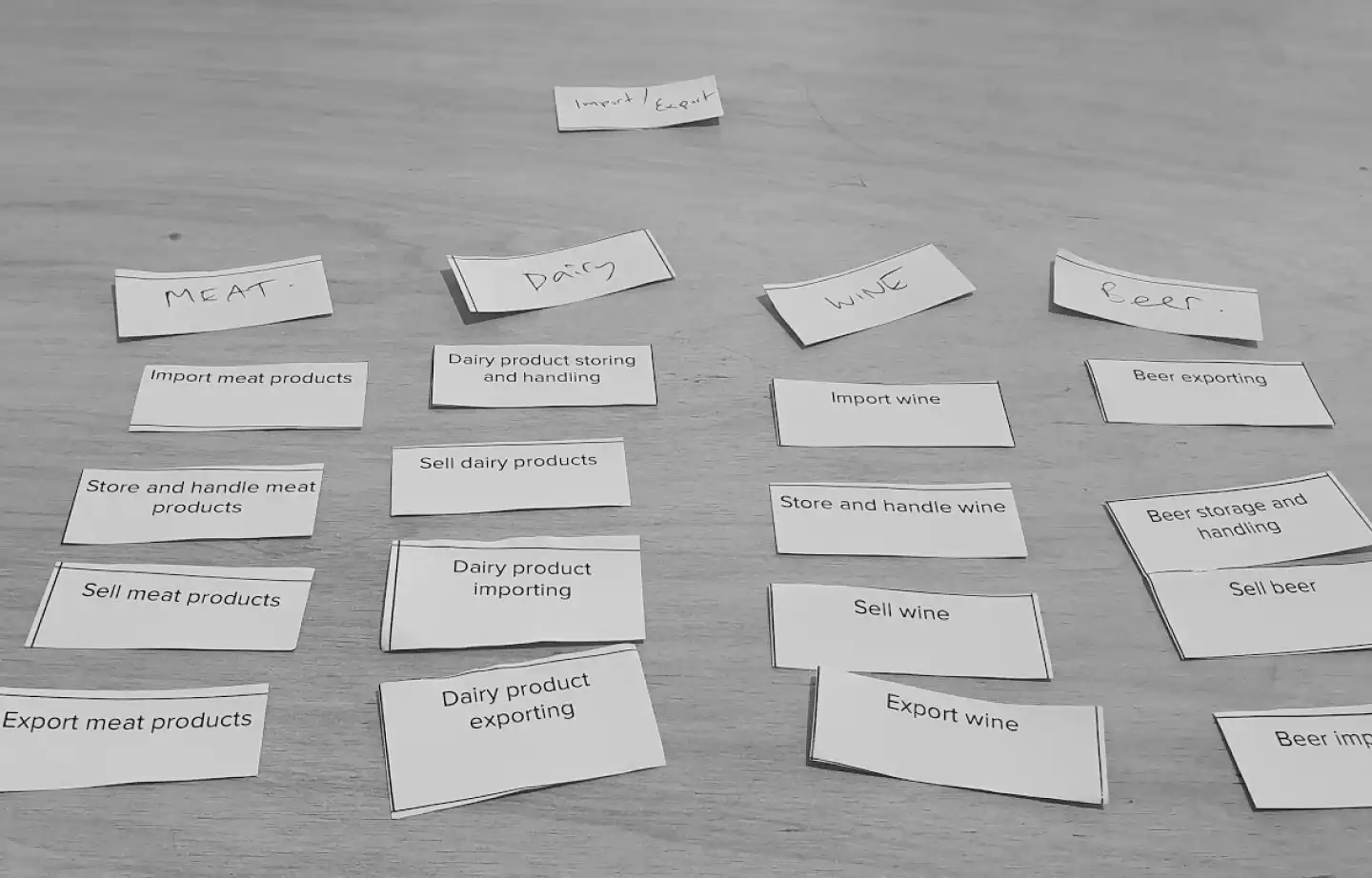 Virginia Gow, Content Strategy Lead at Springload: Often our clients have a wealth of really good — or important — content they want to connect with audiences or customers but it's just not being used, so they're not getting the return on investment. Small adjustments to how the information is organised so it's closer to what users expect or are trying to do, or changes to what things are called, can make a huge difference. 
When we were redeveloping Massey University's website, for example, we made so many small changes to labels so they matched what students called things rather than what the university called them. For example, changing "distance learning" to "distance and online study" will mean information about how flexible study at Massey can be will reach far more people who could potentially benefit from what Massey offers.
Chris Webber, Customer Success Manager at Optimal Workshop: My favourite story of IA is about a supermarket trying to optimise their online shopping offering. They were consistently having shoppers abandon their carts mid-shop and wanted to find out why. How should they structure their online shopping in a way that makes sense to their customers?
On their IA journey, they had to learn how their customers grouped different products, where they expected to find them, and how they would be categorised. Do you find bacon with pork in the meat section? Or maybe with the other breakfast foods, like cereals or eggs? Why does salsa appear twice in the supermarket in two different sections? Finding meaningful answers to these questions, backed by research, is what is so exciting about IA for me. Creating beautiful and intuitive experiences that feel effortless for your customers.
Aidan Pearce, Product Coach at Optimal Workshop: I worked with a company who were looking to restructure their Help Centre experience in response to their customer support teams being continually stretched. Through initial research, we identified they have two key customer segments. The team were able to build defined Help Centre experiences for each of these customer groups using labels that aligned best with the knowledge and perspectives of each group.
Through OptimalSort in particular, it was found that one customer group opted for 3 very generic categories to show initially, whereas the other group (who had more technical perspectives) opted for 6-7 categories at the top level of the Help Centre. This informed the design decisions when creating intuitive experiences for customers from each segment. Treejack was also iteratively used to A/B test proposed taxonomy structures until final structures with high levels of success were decided on.

What's your favourite Optimal Workshop tool, and why?
Ruth, Head of Strategic Growth at Springload: Treejack — firstly, it's a thing that's very difficult to do by hand. It's also easily the most robust and well-researched tool for testing and validating IA. I like that it allows you to reach a lot of people and enable them to do this research from your own home. We've had a lot of success using Treejack across several client projects like MPI and Massey where we had 100s of people respond to each test we did. 

Virginia Gow Content Strategy Lead at Springload: I like the card sorting tool – as an IA designer, and also as a test participant, because you can test your IA really widely. A card sort is when you get potential users of a website or product to group cards that represent topics or other information in a way that makes sense to them – which is often really surprising!
Chris Webber, Customer Success Manager at Optimal Workshop: Definitely Treejack! I love being able to have a tool where you can quickly iterate and test different structures and arrangements of IA. You can rapidly test and benchmark your existing or proposed structure and gather rich insights into where people get lost in your content. It also provides detailed analysis to understand things like directness or where people get lost and turn around. 
Aidan Pearce, Product Coach at Optimal Workshop: Chalkmark stands out to me as a really underrated tool, likely because of its simplicity. People doing research don't need to create a high fidelity prototype to get feedback on design decisions. Instead, Chalkmark can be used to quickly get feedback on user interfaces at timely moments in the design process. The ease of setting up and running a Chalkmark study really lends itself to the democratisation of research, which is a trend we are seeing a lot as companies aim to make timely research more accessible across their organisations.