Picture this: Your parents are in town tomorrow and you've completely forgotten to make a dinner booking. What do you do? You whip out your phone and search for restaurants near me. Now imagine you're on the other side of this search – a restaurant owner looking to fill seats – wouldn't you want your trendy bistro to be the first place they see in the search results?

Placing your business on the SERP
Situations like the one above happen millions of times every day. It's clearly important for your business to show up on the search engine results page (SERP) when the searcher is doing some initial research, reviewing their options, or about to make a decision. A position near the top increases the chances a searcher discovers your business. But how do you get a prominent search position in the right moment? There are two ways: 
Use search engine optimisation (SEO) techniques to rank in organic search results.
Use a paid search ad platform, such as Google Ads, to pay for a placement.
You might even do both. Keyword research helps in either case, but in this blog we'll focus mainly on keyword research for Google Ads. 
If you need a refresher on Google Ads, check out my previous blog Getting to know Google Ads.

Start with keyword research
Keyword research should always be your first step when planning a search marketing campaign. It uncovers what users are actually searching for, so you can create content to directly answer those search queries. If you're running a paid search campaign on Google Ads, keyword research assists with lowering your cost-per-click (CPC) and getting a higher rank than the competition. 
Understanding relevance, competition, and frequency
But before you dive in, it helps to understand a few things about choosing the right keywords for your unique Google Ads campaign.
Relevance
Make sure the keywords you choose are relevant to your offering, and aligned to the content on your website. A major factor of ad rank (how Google decides your ad's position in search results) is the landing page experience. This is the page users arrive at when they click your ad. 
The keywords you choose should be represented prominently on both the landing page and its associated ad.
Competition
Some keywords are very competitive, which drives a high CPC. These could be words with high commercial intent, meaning users are ready to take action. For exampleorder flowers online or coffee near me. 
They could also be 'short tail' keywords, which are generally short, commonly searched phrases such as sneakers or latest news. 
Because of the popularity among bidders of these keywords, the CPC is driven up. You'll need to consider whether or not it's worth competing on certain search terms.
Frequency
You'll want to choose keywords that people are searching for. So choosing terms with high search volume is important. But you shouldn't always go just for the highest volume. Businesses with smaller budgets may see greater success bidding on 'long tail' keywords. These keywords are cheaper because they have lower search volume and less competition. 
For example, bidding on bulk buy organic cola might get searched for much less than buy soft drinks. But if you're supplying wholesale organic cola, you'll potentially get cheaper clicks from searchers who have a stronger intent to buy your product.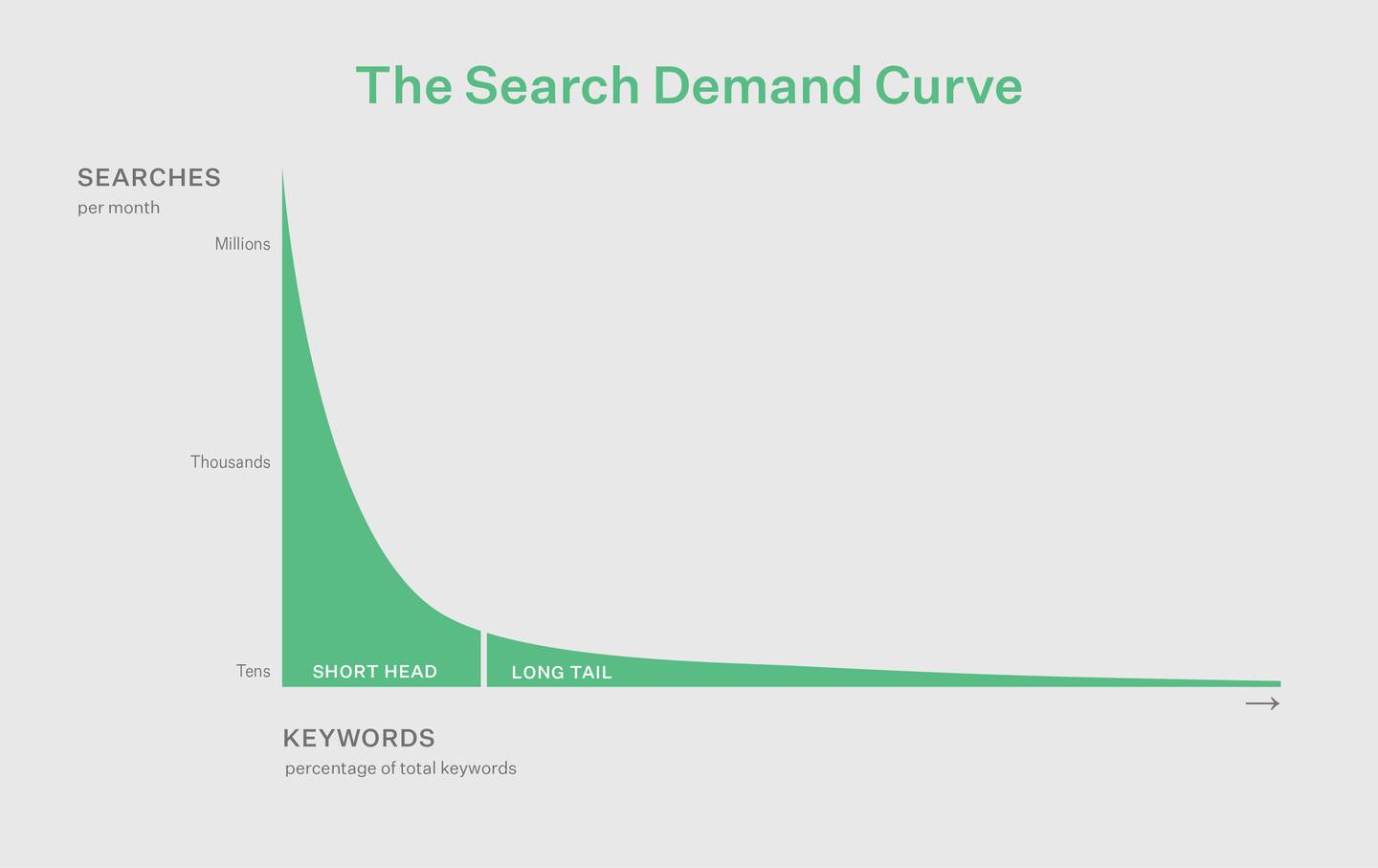 Building your keyword list
Start with a spreadsheet
Now that you understand those factors, you can start building your list of keywords. This can be done a few different ways, and many tools can help, but I always start with a spreadsheet. 
Start by writing down all the keywords relevant to your offering, keeping in mind what would my customer search to find me? 
Look in these places to uncover words to consider: 
your own website
the search terms report in your Google Search Console account
Google's suggestions in the search bar
the Keywords Everywhere browser plugin
Google Keyword Planner to find similar words and phrases.

Search volume and competitive metrics
On your sheet, add columns for search volume and competition. This information is available on Google's Keyword Planner tool, Keywords Everywhere, and other third party tools. These help you get an idea of each keyword's frequency (search volume) and competition. Note that these findings should be thought of as general, ball-park estimates.
Scale up your keyword research 
For extensive keyword research, you can export the entire list of keywords and metrics in Keyword Planner. By aggregating these lists into one spreadsheet, and organising them into themes using the filter controls, you can build a master list of search themes to inform your content and SEO strategy. I would especially recommend this approach for those looking to start off with a large budget. 

Choosing the right keywords for Google Ads
Now that you have your list with corresponding data, choose what you want to focus on. The factors listed above will guide you – relevance, competition, and frequency. 
Keeping the budget tight
If you've got a small budget, look for keywords with low competition and high relevance. 
Long tail keywords will generally fit these conditions, drawing on niches or unique values related to your business. If you're selling used whiteware, rather than trying to rank for buy refrigerator, lean into your niche and speak your customer's language with buy second-hand fridge. 
Or, with a bigger budget
With a larger budget you won't need to worry as much about competition, but you'll still want to consider high relevance, high volume keywords. 
Relevance is essential here because outbidding the competition won't necessarily lead to ranking above them. Google prefers high quality, high relevance ads. As tempting as it may be to connect with an audience who is on the fringe of your offering, this is highly unlikely to provide ROI, and it will affect quality score in Google Ads. A seafood restaurant shouldn't bid on Mexican restaurants near me in an attempt to change someone's dinner plans. 
Don't forget negative keywords 
During your research you'll probably come across some high-volume keywords which aren't related to your offering. Don't ignore these. 
It's just as important to build your list of negative keywords to filter out unwanted clicks. Your negative keyword list will tell Google Ads to not show your ad when a certain word or phrase is featured in a search query. 
If you sell high-end golf clubs, you'll probably want to add words like cheap,free, hire, rent,and discount to your negative keyword list. This prevents people clicking your ad, realising it's too expensive, and promptly leaving – wasted clicks means wasted ad spend.
Putting the time in
So you're thinking: 'This could take a while, and I haven't even started writing ads or set up an account!' 
The more time you put into researching keywords, building out, and refining your list, the more value you'll get. The up-front time cost can be worth it in the long run – whether you're on a small budget fishing for long-tail keywords, or a large firm trying to cover your bases with an extensive list. A good list will keep your CPC down, your quality score up, and inform your content and marketing strategies. 
Research keywords, regularly 
Make keyword research a regular part of your marketing strategy, and revisit it every six months. If your business is seasonal, you could do this more often in smaller increments. Use your best judgement for your business needs. 
Apply your keyword research
This sheet is now useful for a variety of next-steps:
You can use it to begin structuring your Google Ads account
Inform content decisions on your website to improve SEO
Generate ideas for new website content, or even new offerings for your business
Get an insight into how your customers speak 
Gauge demand for what you offer or are considering offering.  
Need help?
If you're struggling to get set up, or simply don't have the time – we can help. To learn more about our services in Google Ads account management, get in touch.
Get in touch
Let's make the things that matter, better.