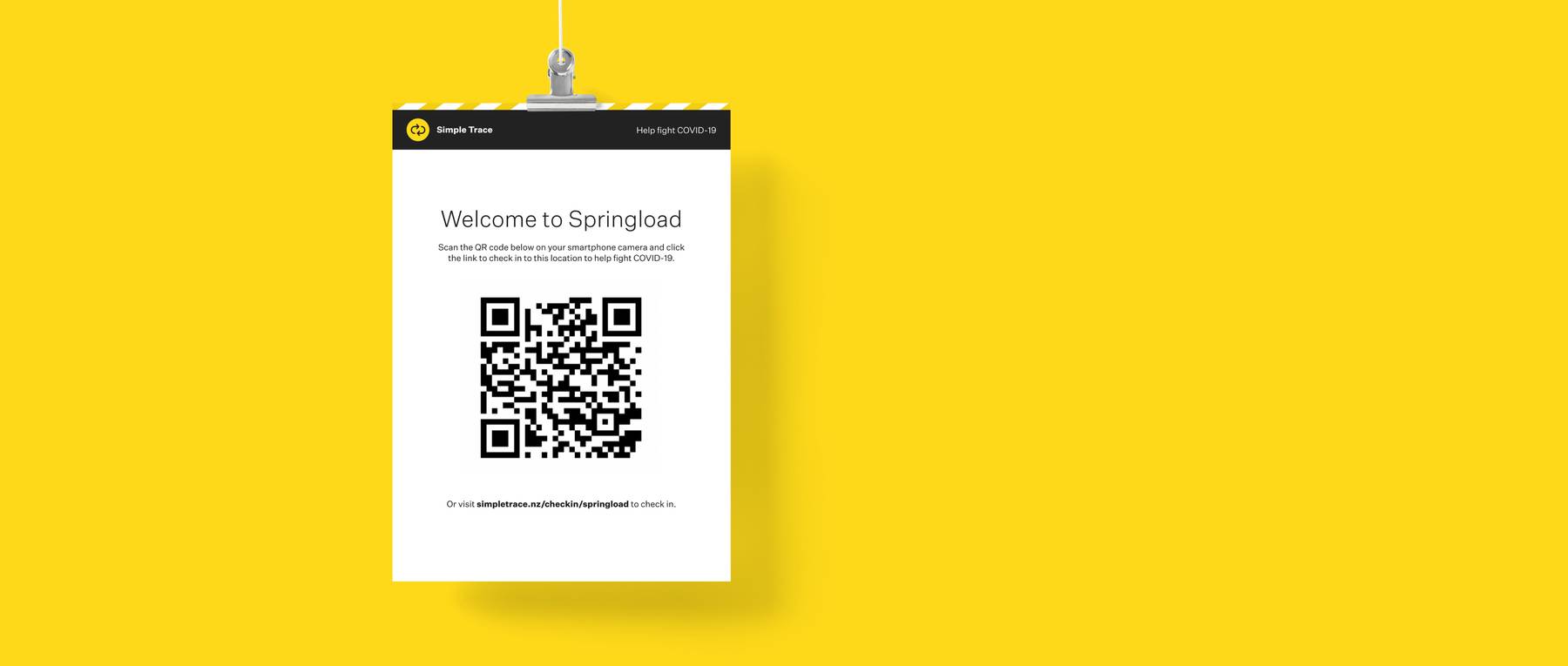 Contact tracing is central to helping New Zealand control and eliminate Covid-19. As lockdown levels are lifted, our capacity to detect and isolate potential Covid cases is essential to maintaining the safety of every person in NZ. But the Public Health Units (PHUs) responsible for contact tracing and case management are already overloaded. We asked: how can we support them moving forward?
Introducing Simple Trace
Simple Trace is a free web app designed to support and streamline the PHUs capacity to rapidly respond and isolate potential Covid-19 cases. 
During Alert Level 3 businesses can start to reopen, but they'll need to keep records of anyone that visits their premises for at least two months. Think of Simple Trace as a safe and effective alternative to pen and paper check-ins. 
If you're reopening your premises, Simple Trace can help you meet that requirement and get back to business, while ensuring the safety of those around you.
Protecting health without compromising privacy
Developed with Data Protection and Use Policy (DPUP) guidelines in mind, Simple Trace is a contact tracing app that doesn't compromise privacy. 
Purpose matters: Information is collected to assist with contact tracing if a person or premise is suspected of being at risk of COVID-19 infection. Simple Trace only records visitor data to send to the visitor and to the business they've visited. At the end of every day, Simple Trace deletes all data.

Transparency: If you're using Simple Trace to track the premises you visit, you choose when and where your data is recorded. Unlike some apps that are always on, Simple Trace only records data when you scan a business's unique QR code, fill in a form, and submit your details. 

Access to information: Whether you're a business or individual using Simple Trace, you can access or correct the personal information we hold about you by contacting us at hello@simpletrace.nz. Simple Trace deletes data at the end of every day.

Sharing value: Simple Trace offers a free, easy, and effective way for people to work together to help fight Covid-19. 
How it works
Businesses: create a unique QR code, print your poster, and display outside your premises. 
Visitors: scan a business's unique QR code using your smartphone camera. 
Businesses: receive daily reports of everyone who visits your premises using Simple Trace. You should store this data securely and only share if the Ministry of Health contacts you about a Covid-19 case. The Ministry of Health will then follow up with each person that may have been exposed.
Visitors: receive daily lists of all the locations you visit. If you test positive for Covid-19 you'll be able to give your Simple Trace list to the Ministry of Health so they can rapidly isolate and respond to other potential cases. By sharing your details with businesses you visit, you may also be contacted if you cross paths with a potential Covid-19 case.
Working together to help fight COVID-19
Public health measures, case detection, and contact tracing combined can help eliminate Covid-19 with over 90% success rate — used together, these solutions have the potential to be as effective as a vaccine. 
Simple Trace helps Kiwis fight Covid-19 and get back to business. Try the free web app to record who's coming and going from your business. 
If you have any questions about Simple Trace please get in touch with hello@simpletrace.nz.   
Get in touch
Let's make the things that matter, better.