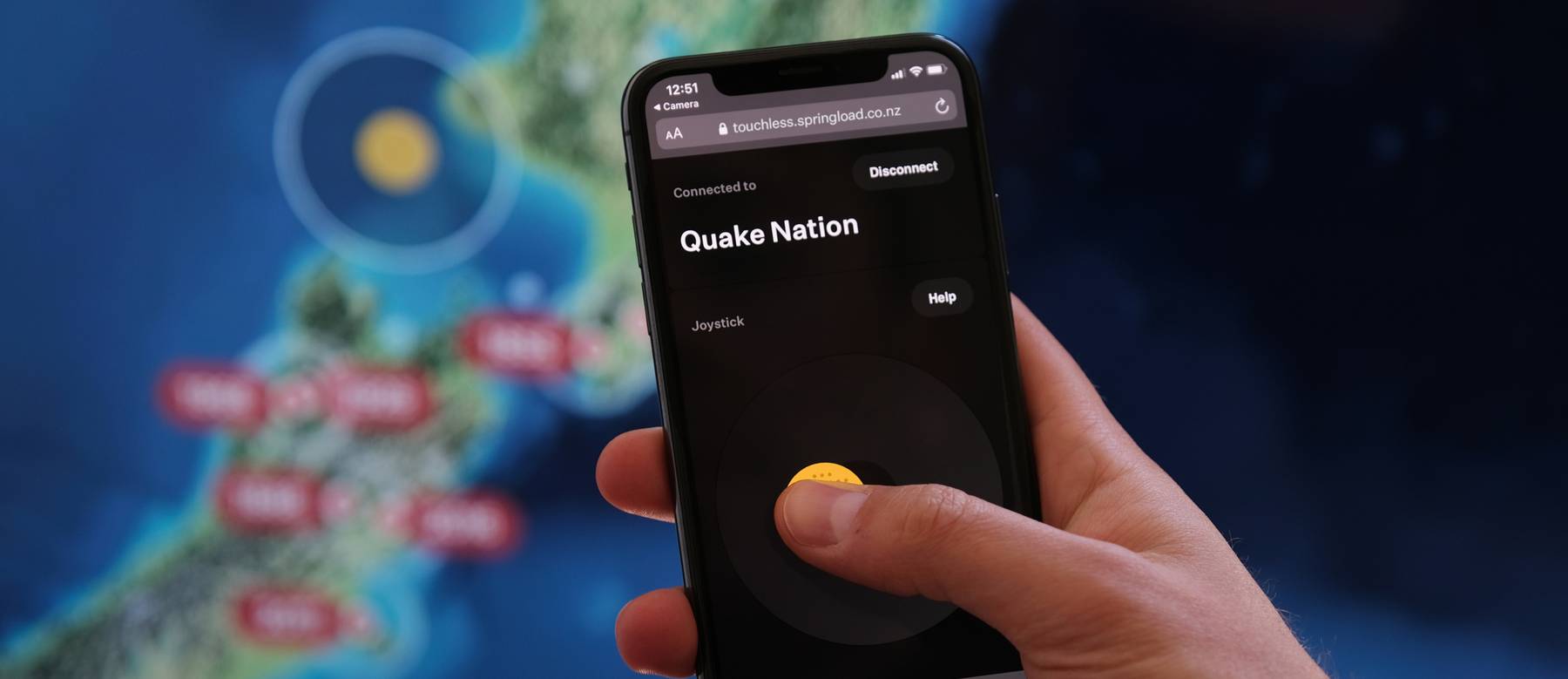 Touchless keeps interactive exhibits alive at a time where people are discouraged from using high-touch public spaces. 
In the GLAM (galleries, libraries, archives, and museums) sector, visitors are no longer willing or encouraged to interact with art and exhibitions if it means touching screens that hundreds of others have already touched. But these interactives hold so much of the joy and learnings of the exhibitions. The Springlabs team identified a way to transform interactive touchscreens into a touchless experience using visitors' personal devices instead.
Introducing Touchless
Touchless allows people to engage with interactive displays while remaining safe. It transforms any personal device with an internet connection into a remote control so that people can operate the screen without needing to physically touch it.
The Touchless technology is made up of two parts:

a web app accessed by scanning a QR code with a personal device — it controls the cursor on the interactive screen

a cursor displayed on the interactive screen — this is controlled on the personal device.
The web app and cursor communicate in real time via a local or externally hosted server.

Communicating connection with a cursor
Touchless displays information on how to connect and provides visual cues to show when a connection is established. It's enabled by adding a script tag to existing HTML/Javascript interactives.
Touchless keeps track of all devices connected to the interactive and displays instructions for how to use the interactive once a device connects.

Replacing touch with remote control
The Touchless remote is accessed by scanning a QR code on the exhibit using a device's built in camera app or QR code reader. Alternatively, people can enter the URL manually to get started.
The modular design approach allows for a range of custom inputs to be displayed to match the needs of an exhibit — for example, a canvas for drawing or a text and voice input for searching can be displayed.

The default remote resembles a joystick and is based on velocity and direction. For cursor-based interactive experiences this gives precise control and allows greater distances to be covered on screen in a shorter amount of time.

Removing physical limits
By removing the physical limits of single touchscreens and multiplayer interactives, Touchless allows typical interactive screens to become more digitally inclusive. Touchless also allows multiple users to take part in the experience at once.
Imagining new remote-first experiences with Touchless
Touchless offers a quick and cheap way to adapt existing HTML/Javascript interactives. It also opens up the possibilities for creating new remote-first interactive experiences using:
customised content snippets for the remote that provide people with additional information while maintaining social distancing

multiplayer mode which requires people to achieve goals together using Touchless.

Request a demo of Touchless
Do you have interactive displays you'd like to transform or custom features you'd like to implement? We'd love to chat — request a demo of Touchless by emailing springlabs@springload.co.nz. 
Get in touch
Let's make the things that matter, better.