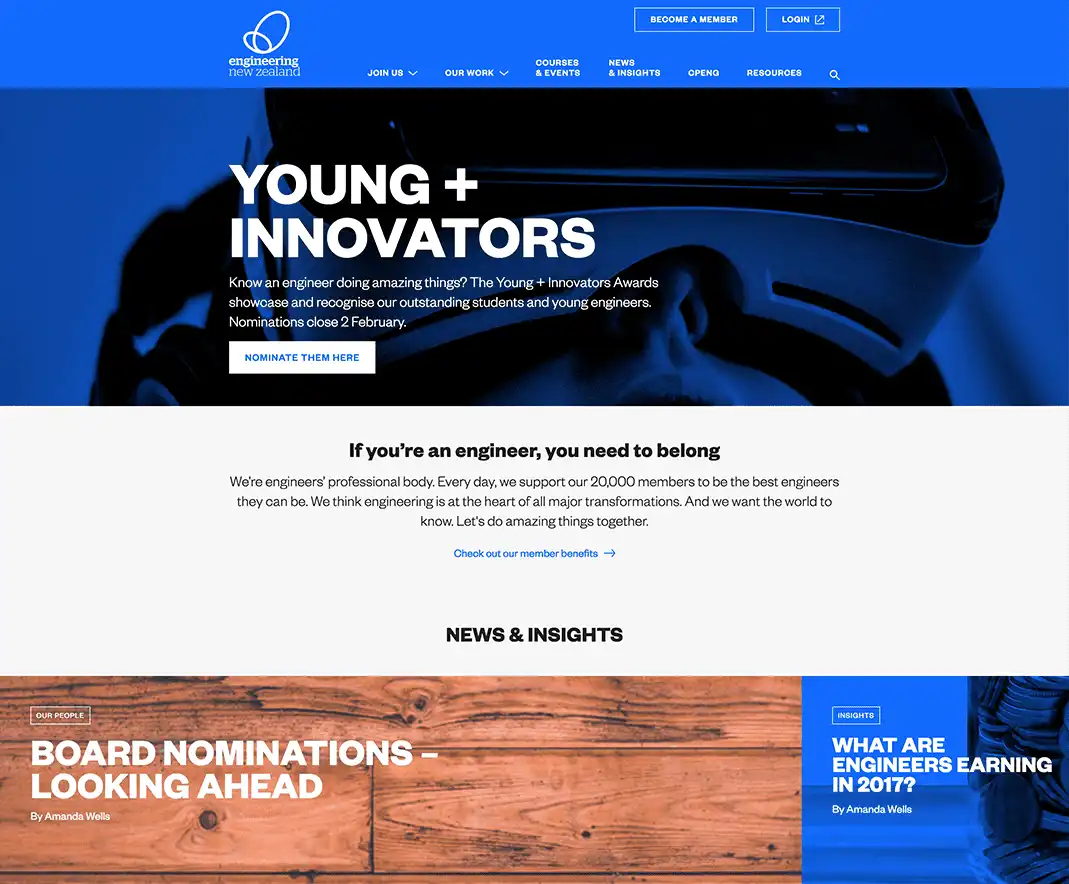 The challenge

:

Creating a new member-friendly website

Engineering New Zealand wanted a website that was more user-focussed and relevant to their members. It needed to:
increase memberships

engage more effectively with their members through courses, events, blogs, and news

provide a clearer understanding of the membership process

become more connected, credible, influential and well-recognised.
We couldn't have chosen a better partner to take our rebrand and bring it to life digitally.
GM Marketing & Communications, Engineering New Zealand
Our Approach

:

Getting the content right first

Engineering New Zealand's website contained a huge amount and variety of pages. Using the insights gathered from an audit and an IA review, we developed a content strategy that focussed on:
simplifying the navigation and IA

rewriting all site copy so it better articulates the benefits of joining Engineering New Zealand and showcases the importance of engineering to the public

consolidating pages and information to help users find and understand vital information on offer

removing distracting content such as the complicated article search, related article items and side menu navs.
Taking a flexible design approach to brand 
We settled on a design approach that gave us maximum flexibility with the wide range of content. This was after exploring how the brand fonts, imagery, colour and graphics could be combined. An emphasis on typography ensures text based pages have a clear hierarchy. We embraced white space where appropriate. Content can now be easily scanned and read.
Communicating membership benefits more clearly 
A short summary introduces each membership at the top of the page. Three to four key benefits follow. Priority is highlighted using type size and imagery.
Moving to a new CMS and a custom API
We've significantly improved content creation and management by moving Engineering New Zealand's website to Wagtail CMS. Changes can now be made much faster, easier and more cost-effectively.
We did a custom API integration with Arlo, the event management system Engineering New Zealand use. Events are now incorporated more seamlessly into the site and much easier to promote.
Springload went out of their way to understand our business and what we needed and really listened to the things that were important to us.
GM Marketing & Communications, Engineering New Zealand
The results

:

Delivering a better member experience

Engineering New Zealand's analytics show we're meeting their goals to be more inclusive and relevant to their audience. New users, page views and, mobile and tablet traffic is up. Bounce rates and page load times are down.

21.9%

increase in new users

26.2%

increase in unique page views

51.7%

decrease in page load times