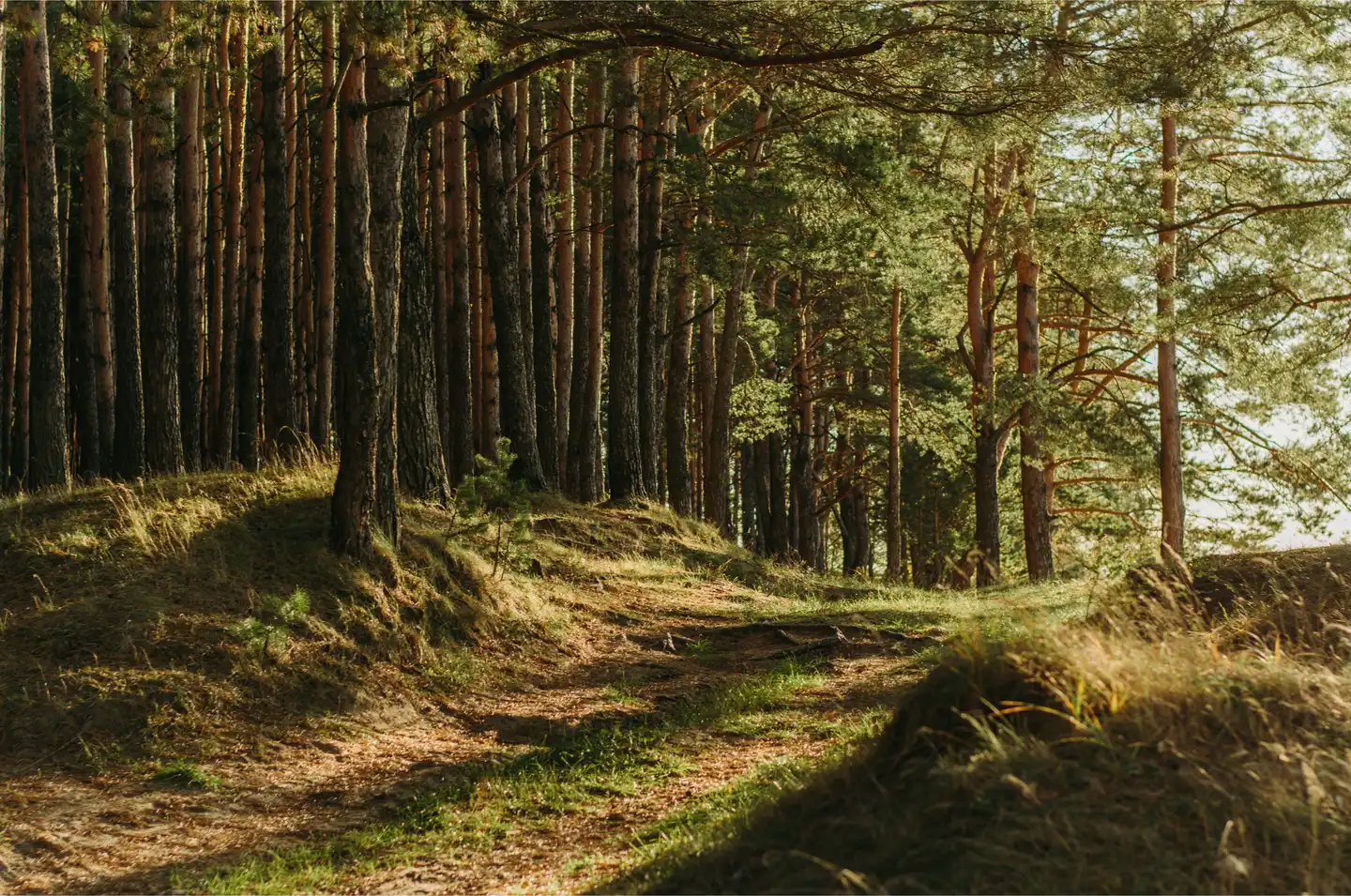 What we're proud of
Supporting a system designed to help Aotearoa meet its climate goals

Undertaking human-centred research to understand a complex system and what users need from it

Providing documentation to help MPI understand the system, and move forward to the RFP stage.
The goal

:

Understand a complex system, then reimagine it

Aotearoa New Zealand's forests help us reduce carbon emissions and meet our international climate change obligations. Recording this requires an intricate information system, where farmers and forestry businesses can register their trees and earn carbon credits. Te Uru Rākau's Climate Change Information System tracks information about forestry land, such as when it is sold, subdivided and harvested. 

The current Climate Change Information System was complex and challenging for farmers and foresters to use. Te Uru Rākau New Zealand Forest Service asked Springload for user experience and business analysis expertise to understand how their current system was functioning and to help them imagine what a new system could look like.
Our approach

:

Listening to foresters and hearing what they need

We interviewed farmers, forestry consultants and Te Uru Rākau staff to get a full picture of all the system's users and what they each need from it. We spoke with owners of small and big forests. Seeing their situations for ourselves helped us understand how crucial it is that the Climate Change Information System works well — their livelihoods often depend on it.
Visualising good news stories
A visualisation exercise helped us kick things off with the project team and stakeholders on a positive note. We imagined positive outcomes once the new system is live by drawing the front page of 'The Daily News'. This helped stakeholders articulate the impact they wanted the new system to have, and begin to plan how that could be achieved.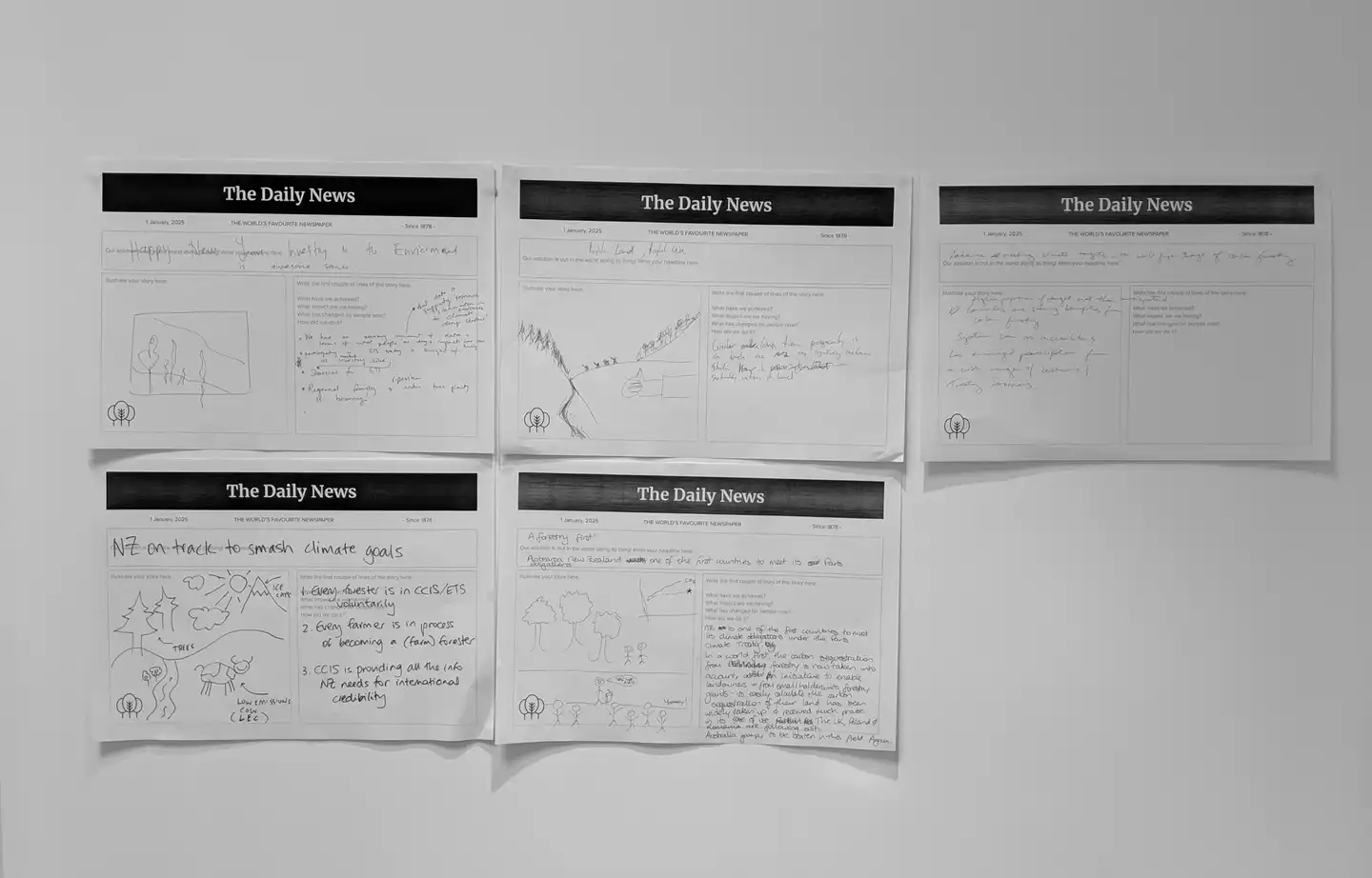 Documenting users' activities, pain points and journeys

We documented the activities and pain points users have with the current system. We mapped the journeys users would take through a future solution, identifying the key features a new system should have. 
Creating an ecosystem map to show how the system works
We created a high-level ecosystem map showing all the various parts that feed the current system, and the interfaces between them. This map became a useful visual for stakeholders to talk to, helping everyone get on the same page. 
Lo-fi process mapping to identify where to make change
We helped Te Uru Rākau subject matter experts lead lo-fi process mapping sessions with post-it notes and sharpies. Getting up on their feet and moving post-its around helped build shared understanding, and identify areas where immediate, impactful change could be made.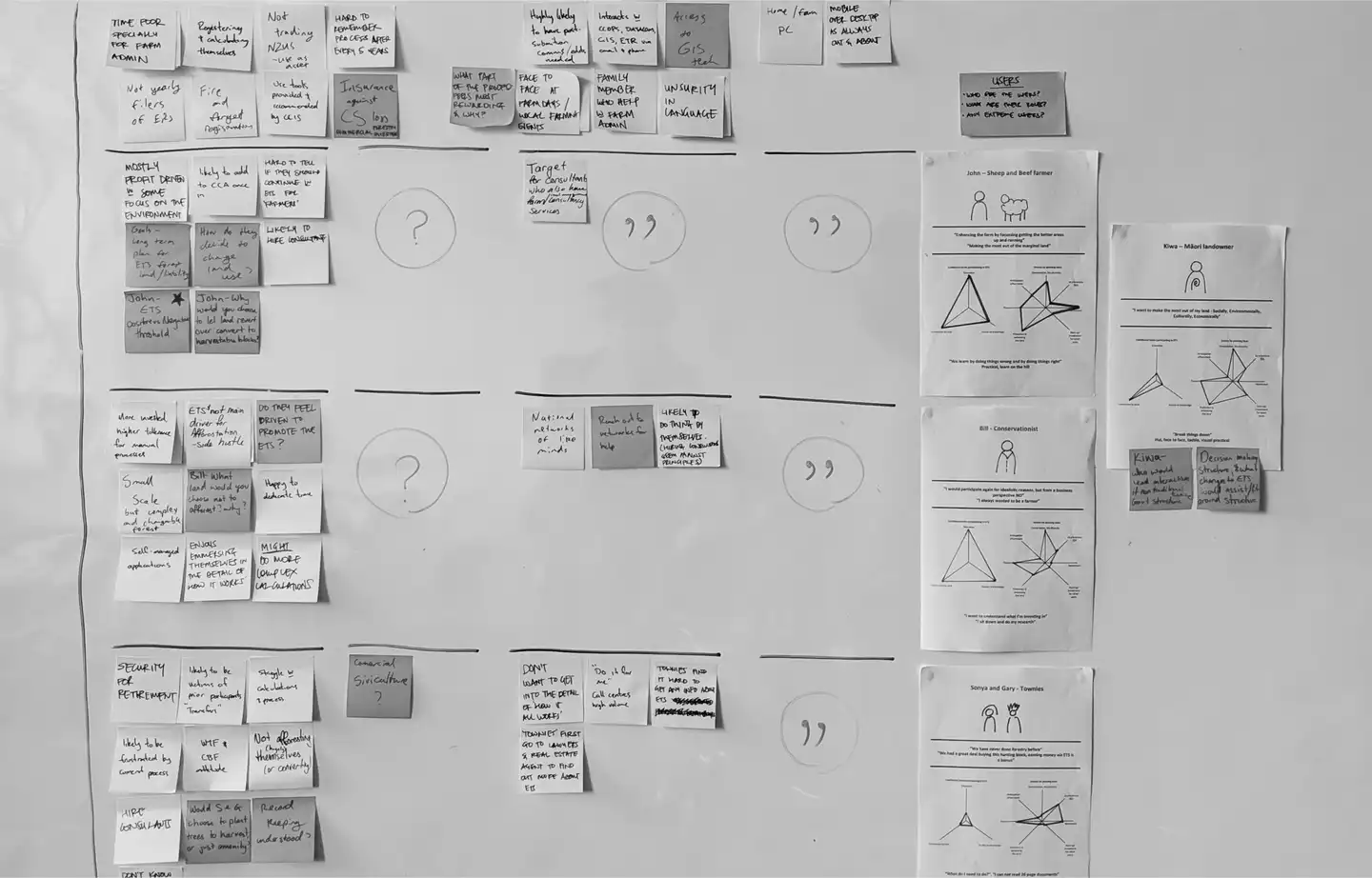 The outcome

:

Insights to support a new system to reduce carbon emissions

By demystifying and documenting the workings and user needs of the Climate Change Information System, and helping to imagine what a new system could look like, we helped equip Te Uru Rākau with the knowledge needed to build a user-friendly system — ultimately helping the forestry industry reduce carbon emissions.