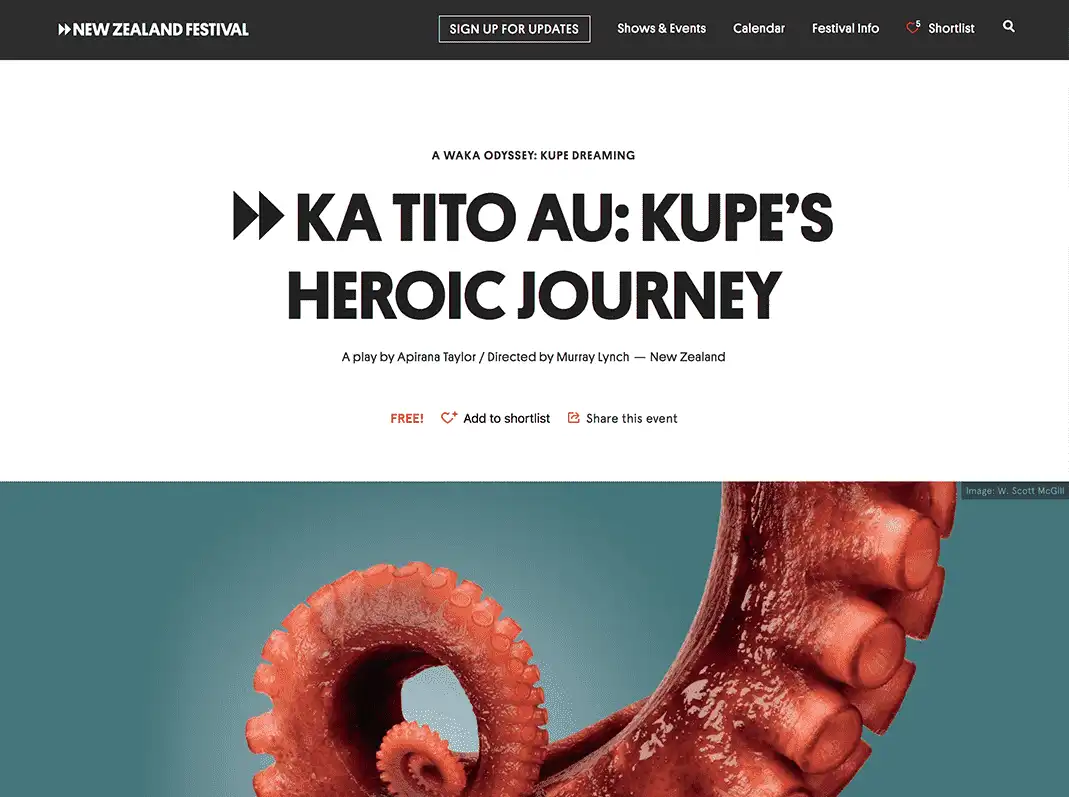 The challenge

:

Steering the Festival's digital direction

For the last 12 years we've worked closely with the New Zealand Festival to steer their digital direction. Whether it's development, design, or content, improving the customer experience is always at the heart of any of these changes. Recently, we've helped evolve their brand, launched an individual-giving platform, built a content-focused website, and improved the ticket-buying experience. 

Springload doesn't just make websites and apps – you have helped our business understand what it stands for, and how it can be the best version of itself.
Executive Director, New Zealand Festival
Our approach

:

Celebrating 30 years of festival history

To mark the Festival's 30th anniversary and 10 years of collaboration with us, in 2016 we guided them through an internal brand process. This was a way of taking stock and setting the direction for the next 30 years. We redesigned their website, made it responsive, and re-platformed it on Wagtail. This resulted in a 42 percent increase in visitors compared to the 2014 website and a 308 percent increase in mobile usage. 

Moving to Wagtail significantly improved the experience for the Festival's editors, making it much simpler to create and update content.



Refining the ticket-buying process
For the 2018 Festival we focussed on the event booking process. We improved the experience of buying multiple tickets by allowing people to book directly on the Festival website. This saves time and improves convenience for ticket-buyers. Previously, customers were sent off-site to Ticketmaster for each ticket purchase.
Festival-goers can now choose all their favourite events and purchase tickets in one fell swoop. These can be easily exported to your calendar and shared on Facebook. You can even make a shortlist, log in and it will merge with an existing shortlist. All thanks to our developers React expertise.
Increasing newsletter subscriptions
In 2018 we also made it easier to sign up for email updates by placing links in prominent positions throughout the website. People can sign up through a button on the homepage hero image, and via a link in the header and footer. This resulted in a massive 442% increase in sign ups in 2018 from 2016 – in the first four months of each festival year. The New Zealand Festival now has a much stronger database through which they can promote shows and events via email.
For us at the New Zealand Festival, our whole Springload experience is summed up by a typo in a launch tweet: 'The site is LOVE'. We meant to say live, but we actually hit the nail on the head.
Digital Coordinator, New Zealand Festival 2016
The results

:

Making it easier to experience life-affirming art

We love the ongoing work we do with the New Zealand Festival. Together we create beautiful customer-focussed solutions that increase engagement and make it easier to experience life-affirming art. 

42%

increase in visitors (2016 vs 2014)

308%

increase in mobile usage (2016 vs 2014)

442%

increase in email sign ups (2018 vs 2016)