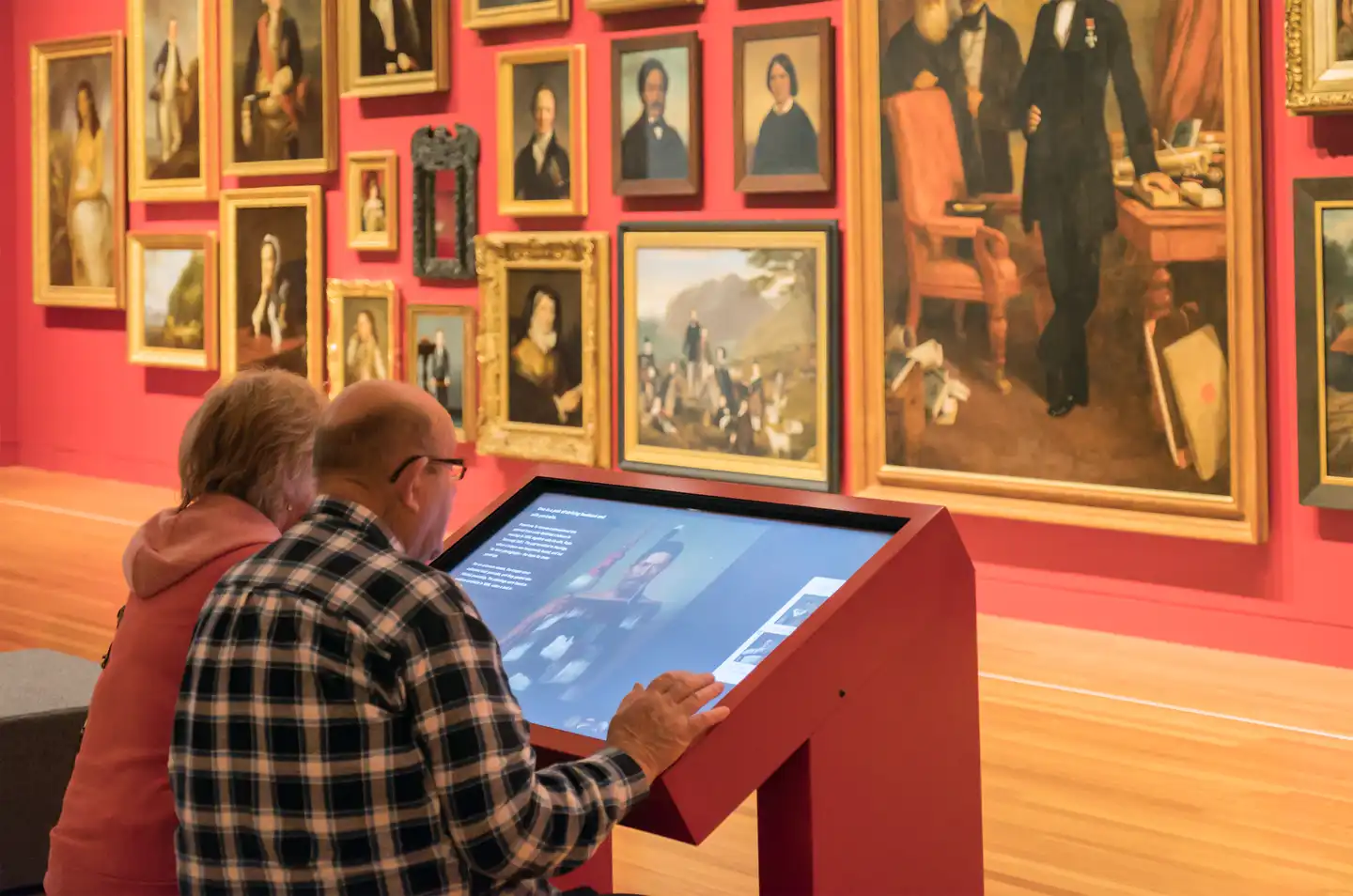 A portrait projects the mana of its subject, and shows off the artist's skill in capturing a personality with paint. But there's the story told by the artist on the canvas, and then there's the story told by the canvas itself. 
To help visitors explore an artwork's secrets, history, and cross-cultural perceptions, Museum of New Zealand Te Papa Tongarewa asked Springload to help its design team to create a digital interactive tool that deepens the portrait viewer's experience.
New gallery for historic art
Opened in 2018, Toi Art is Te Papa's space to display selections from NZ's national art collection. The permanent exhibition 'Encounters' displays 36 portraits and taonga which explore national identity and cross-cultural exchange. 
The portraits are hung close together to help viewers compare and contrast portrayals of prominent Europeans with portraits of historic Māori and Pacific Island leaders. Significant physical taonga are displayed alongside from other collections in the museum.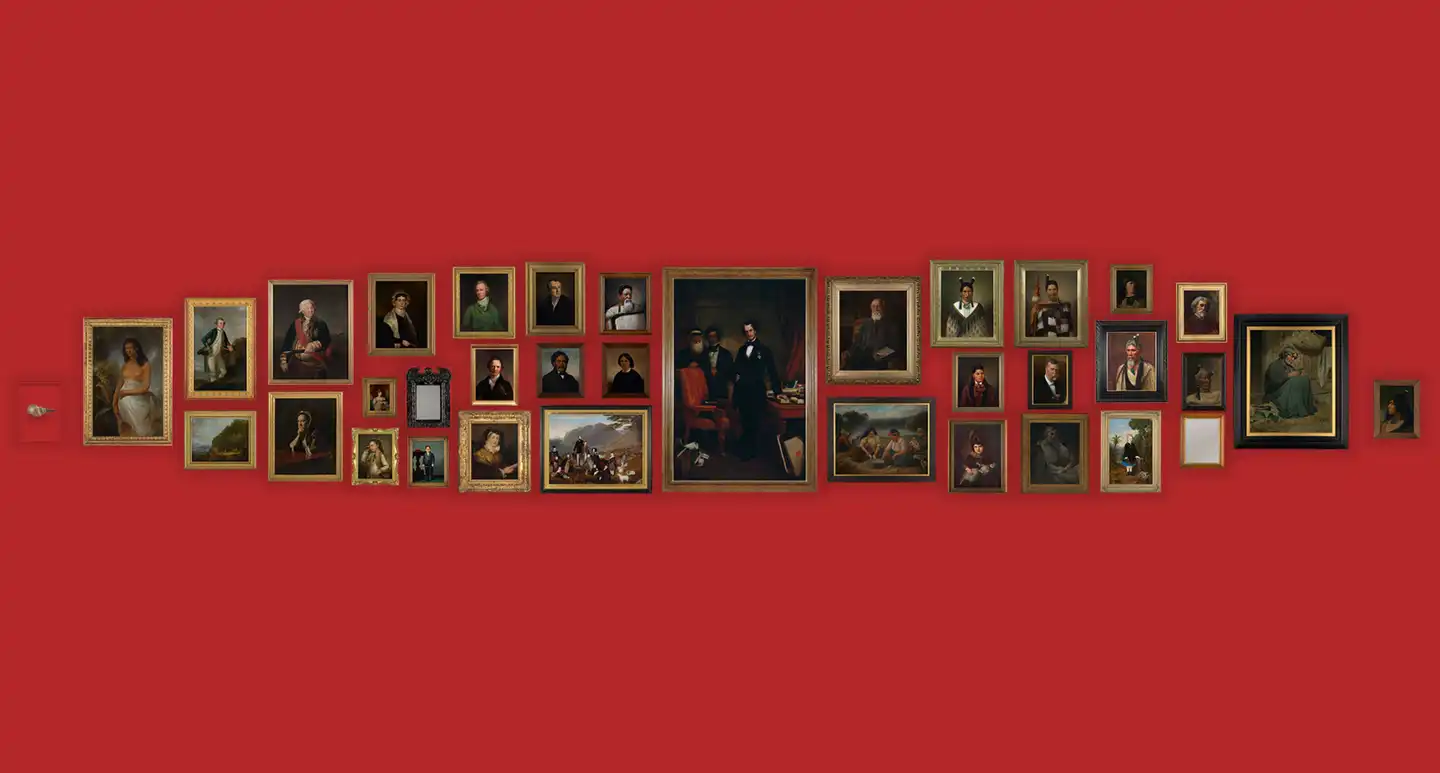 Our Approach

:

Getting viewers closer to the art

Working with Te Papa's design team, Springload developed the tech behind a touch table where visitors can explore zoomable, high-resolution photos of the portraits and taonga. The technology was based on the Te Papahiko component suite we helped Te Papa develop in 2017.

On the touch screen, visitors see the paintings and taonga in the same arrangement as on the wall. When they tap on one, an image of the artwork fills the entire screen, allowing the viewer to pinch-zoom to enlarge details. Animated hotspots invite users to tap to find out fascinating facts about the artwork, the person portrayed, or the artist.

If the screen is left alone for a while, an animation highlights connections between paintings to attract new users.
Diving deeper into the canvas
A painting carries its own history through paint and varnish on the front, and seller's labels and repairs on the back. 
Viewers can explore the portraits and taonga in three unique ways:
a pinch-zoom view to see details up-close on the front and back of the artwork
a draggable slider that reveals what's beneath layers of paint and varnish
a rotatable 360 degree view, so users can explore an object from all angles.
We made these three zoom components reusable, allowing Te Papa to save time when developing future interactives at this scale.
New tech for a new experience
Before building the finished product, we worked with Te Papa's user experience (UX) team to build several prototypes, and tested them on the floor. Together, we came up with a silky smooth pinch-zoom experience using a WebGL solution running in the Electron-based Te Papa player. 

Revealing secrets beneath the paint
We created a draggable slider for users to compare what a painting looks like under natural light with what it looks like under ultraviolet or infrared light. This helps the user make discoveries for themselves, gaining an understanding of the techniques conservators use for restoring paintings.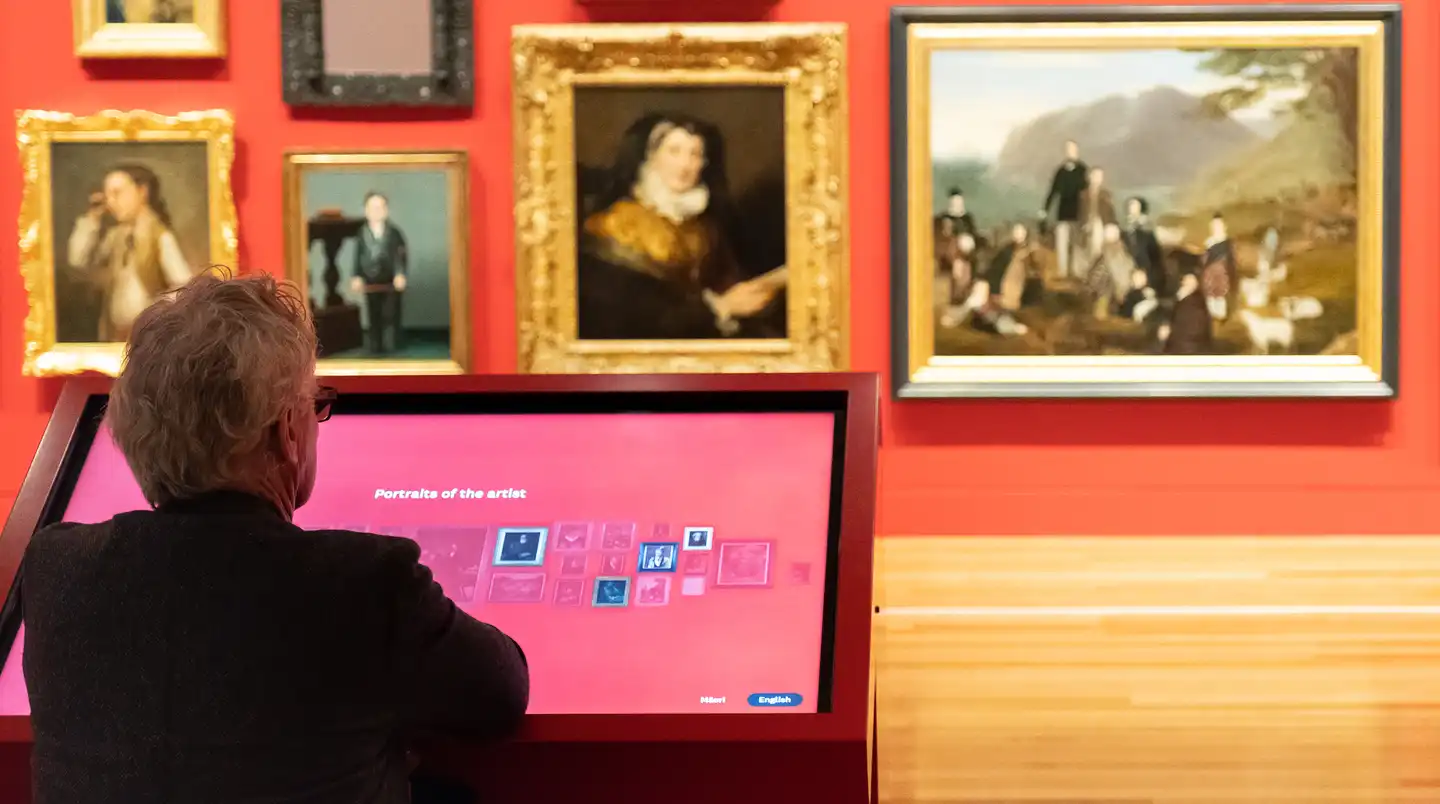 Rotating taonga through 360 degrees
Precious objects displayed in a museum are usually secured behind glass. This protects them from damage, but it also means viewers aren't able to fully appreciate an object from all angles. This was the case for the pūtātara, Te Umukohukohu — an historic conch shell trumpet which was associated with the Tūhoe leader Te Whenuanui.
We shot a 360 degree sequence of 52 images around the pūtātara. Users can drag on a slider to move through the images, and pinch-zoom for a close-up view on every frame. This gives users an up-close experience with the taonga, as if they were handling the real thing.
The Result

:

An exemplar of digital interactivity

Since the portrait tables were installed, they've averaged over 100 user sessions a day — making them one of the most used interactives at Te Papa. Visitors typically explore four portraits each, in sessions lasting over three minutes. 

Nine out of ten users say they are happy with their experience, with just as many saying they've learnt something significant. 

At the 2018 National Digital Forum (NDF) Awards Toi Art won the 'Digital exhibition or collection' award. The portrait wall touch tables were specifically called out as ʻa masterpiece of engaging, accessible digital experience, enhancing, not competing with, the real art works.' 

The performance and engagement with the touch table has been so successful that Te Papa used this project as the blueprint for developing new interactives for the revamped Te Taiao Nature exhibition.