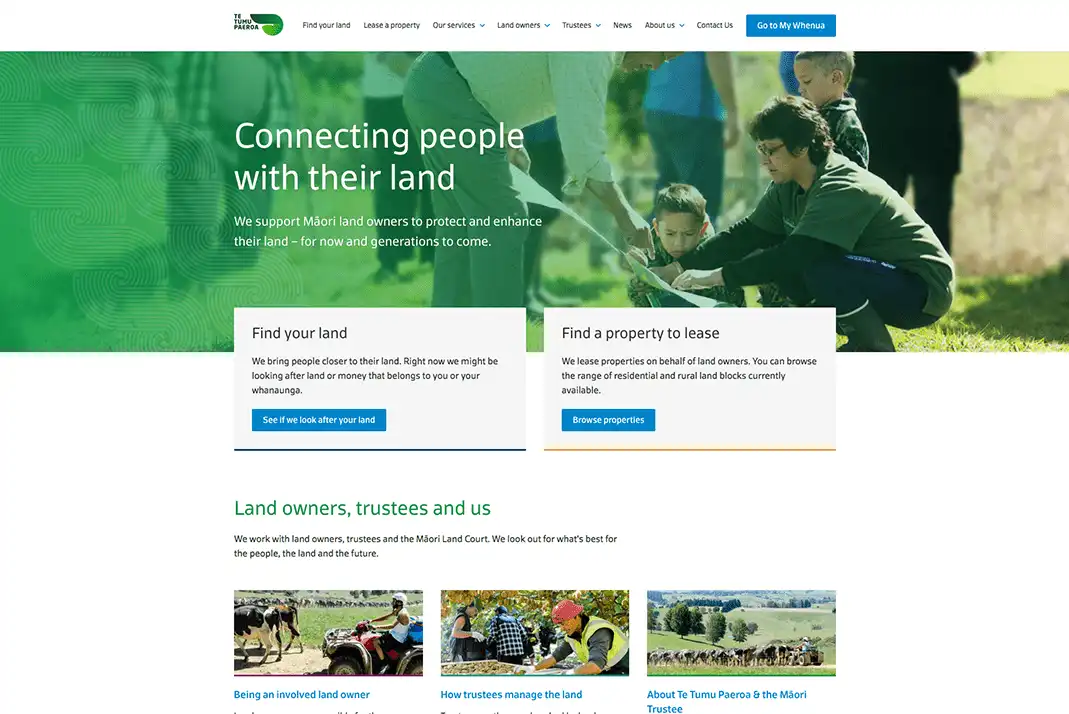 The challenge

:

Reducing call centre enquiries and updating an old site

In 2016, Te Tumu Paeroa asked us to increase digital engagement and improve the overall customer experience. Their site hadn't been updated for some time, wasn't responsive, had slow load times, and lacked an intuitive content structure. This led to a lot of unnecessary calls from their customers.
The work Springload did to make our website more accessible has met our business goals and improved the customer experience immeasurably.
Chief Operating Officer, Te Tumu Paeroa
Our Approach

:

Improving the customer experience for Māori landowners and staff

We embarked on a full website redesign and re-platform, working in partnership with Te Tumu Paeroa and under their te ao Māori framework. We reorganised their information architecture (IA), created a content strategy and seamlessly integrated a CRM. 
Beautifully written content that meets user needs
Te Tumu Paeroa had one overarching goal – to transform their website into an outstanding, accessible business and communication tool. To do this, we: 
re-wrote, consolidated and simplified their web content to give customers clarity and encourage them to use Te Tumu Paeroa's services

established compelling ways to explain what Te Tumu Paeroa offer

optimised the IA for primary tasks to benefit customers and the organisation

created content types and components, along with examples, to make it easier for contributors to produce quality digital copy

implemented a content production plan, and managed the production and editing of new content.

Integrating with other channels and systems
We integrated the website with their social channels to push content to customers, wherever they are online. We also integrated the CRM with the website so:
data is easy to maintain

there is a single source of truth

Te Tumu Paeroa can capture more data about customers and trustees.

Our customers appreciate the increased information they can access directly through our website.
Chief Operating Officer, Te Tumu Paeroa
The results

:

Increased lead generation and reduced cost-to-serve

Our comprehensive content strategy, search strategy, elegant visual design, and high-performing CMS technology:
improved user experience 

supported customers to self-serve 

reduced calls and complaints to their customer service.

Together we've created a solution that meets Te Tumu Paeroa's goals to increase digital engagement and improve overall customer experience.
29%
increase in lead generation
20%
increase in site users
8%
decrease in calls and complaints to their customer service team