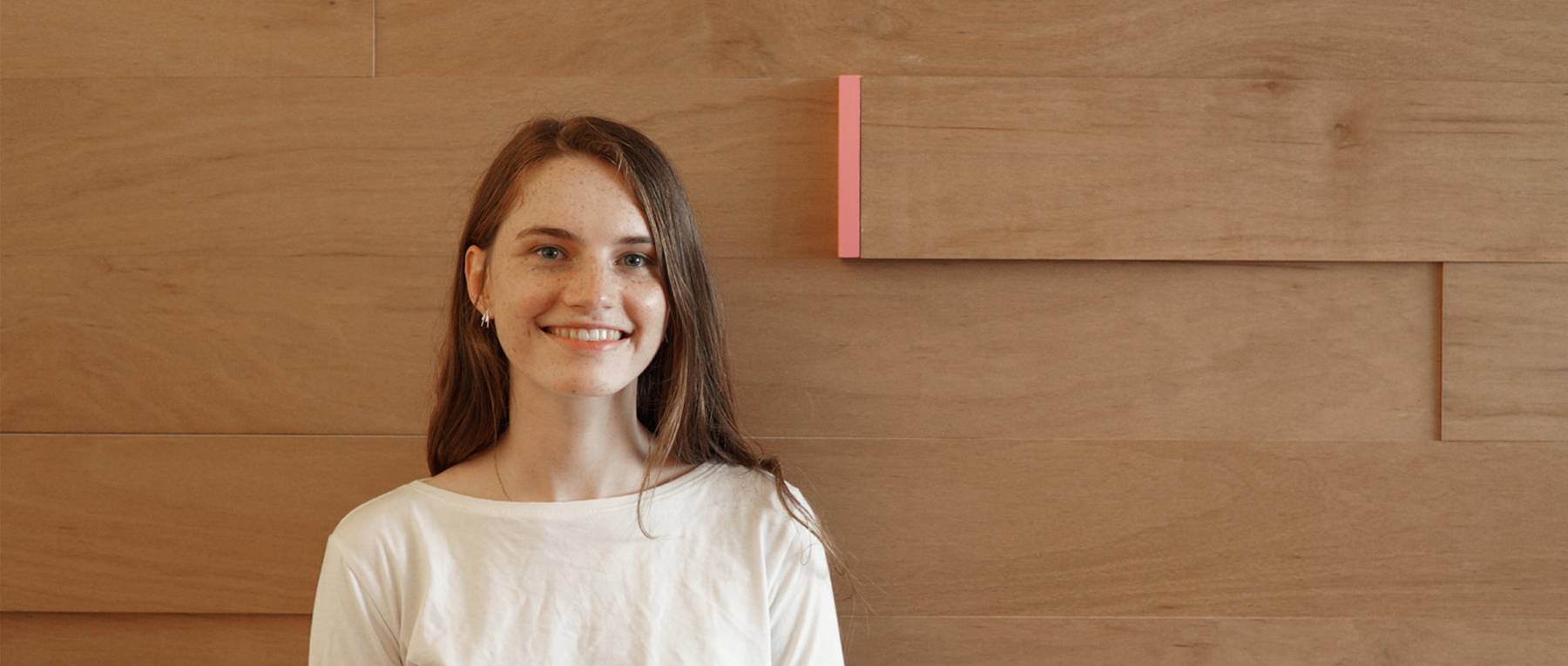 Before starting my internship, I studied at Massey University in Wellington. I'll soon be graduating with a Bachelor of Design with Honours, majoring in visual communication design. I'm passionate about designing for good, by problem-solving through design methodologies, and creating digital experiences that improve the lives of others. Throughout last year I worked on my honours project which explored a proactive, user-centred approach to improving young New Zealanders' mental health.
I got my internship through Summer of Tech – an awesome program that connects students and graduates to the tech industry. They run events and workshops throughout the year that equip students with skills they don't learn at university. By teaching you these valuable skills and helping to connect you with employers, they support your first step into the industry.
What's been happening
The first day
On my first day, I was both excited and nervous! Everyone was so lovely and welcoming, so right off the bat, I knew I was going to enjoy working here. Most of my first day was learning where everything was, getting to know my mentor and team, and sorting out my logins for all the different accounts I needed. 
The first big assignment
The first big task I was assigned was a week-long human-centred design sprint with ACC. This sprint was part of Experience Week 2018, and an awesome project to be working on so early into my internship. Throughout the week, I worked with a diverse team to design, build, and test a working prototype. I learnt so much working alongside such talented people, and it was a great opportunity to learn about designing for conversational interfaces – something I hadn't done before. I also learnt new user experience processes that I now take with me to use in future projects.
Getting into the groove
A typical day for me starts off by saying 'morning' to the team and looking at what I need to do for the day. I like to write down a list so I can keep track, and check things off throughout the day. At the start of each week, the whole company meet for a 'wip' (work in progress), where we hear about what's happening around the company. Then, the Experience Team all meet to talk more specifically about what everyone's doing for the week. Throughout my internship, I've had weekly one-on-one meetings with my mentor, Kanhika. We talk about how I'm doing, my mood of the week, my challenges, wins, and what I can work on in the upcoming week to learn and grow. Sometimes dogs come in to visit which is a huge highlight for me too. 
Enjoying the challenges
The most challenging task I've had is learning how to work alongside developers. In particular, changing designs to fit technical capability – something I didn't have very much experience in beforehand. When challenges arise, I enjoyed working with the team to problem-solve, and work through them. 
Thriving in an inspiring culture
What I've enjoyed most about my internship at Springload is the work culture. There's this really nice balance of working hard, having fun, and being kind. Springload has strong values of respect, trust, and working towards doing good. They create great digital experiences that work towards solving complex problems. I've also enjoyed working on a variety of projects – from user research to visual design. I've learnt so much in a short amount of time from people with diverse skill sets.
Something that has surprised me about Springload is how much support everyone is given to constantly learn and develop. Each week, Springload runs workshops called 'guilds' around different tops such as design, content, user experience, and AI. Everyone is welcome to go and it's a great opportunity for learning about something outside your discipline. 
Learning about design and digital
I've definitely enjoyed developing my skill set in user research and user testing. It's been interesting user-testing with a range of people across multiple projects, and seeing how those findings inform design decisions. It's also my first time being part of a project from start to finish – from user research, user testing, design, and development through to launching a working digital product into the real world!
I've also learnt that you don't need to be perfect at everything. If you don't know something, it's an opportunity to learn. Everyone at Springload has been so approachable – I can go and talk to anyone to get help or learn something new. Not only have I enjoyed learning more about design, but also development, how an agency works, and communicating with clients.
2019 and beyond
I'm excited to carry on working at Springload in 2019 as an experience designer. I'm looking forward to learning more and working with the team on some exciting projects.
Thank you so much to Springload and Summer of Tech for all your support. I've learnt so many valuable skills and I'm so grateful for the opportunity. I highly recommend the program – not only is it great for starting your career, but also to meet lots of new people along the way. 
I've given a few tips below. But above all, my advice for students thinking about taking part in the Summer of Tech program is to just do it! It's a great program to help you transition from uni to industry, and you'll be supported throughout your journey.
A few tips
Have a positive, determined and an 'always be willing to learn new things' attitude!

Get your portfolio sorted and always seek critique from peers and those in the industry on how you can improve it.

It's okay to not know everything and make mistakes. If you don't know something, see it as an opportunity to learn and grow. 
Get in touch
Let's make the things that matter, better.